Another category I read through in my search for change was family relationships. Mainly with my kids. As my kids are hitting the teen and preteen years, my usual control no longer works. It wasn't a great relationship builder to begin with, but born of experience and survival, not to mention easy to maintain because little kids are controllable, even when they fight it, it's what they know. I wanted to learn what my kids really needed now and how I can supply those needs before a rift grows between us.
So I've read numerous books, starting with Hope for the Weary Mom, by Stacey Thacker. I had spent the end of summer of 2012 feeling fed up with parenting. I actually dropped my kids off at my mom's one day in August and told her they could not come back to me the way they were, even if it took days. The constant everything of parenting had caught up with me and I was feeling about done with it all. So what I liked about this first book is that Thacker is good at making you realize you're not alone. It was a good starting place because it helped me feel a little better and that there might be a chance for me as well. (It was also free on Kindle at the time!)
The next book I picked up was
Give Them Grace
, a book on parenting by Elyse M. Fitzpatrick and Jessica Thompson, a mother-daughter team. This book presented me with the idea of approaching my kids in love and understanding and why it will work better than my usual instant reaction. It was a step in the right direction, but I wasn't a fan of the detailed discussions they suggested for approaching certain problems with your kids. They seemed forced to me...or maybe it's just how I imagined my kids and I going about it. Didn't feel like me and I want my new approach to my kids to be heartfelt, not rote.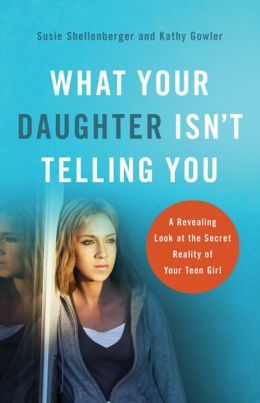 I more recently read a couple books ahead of publication through NetGalley.
What a Son Needs a from His Mom
, by Cheri Fuller, was specifically geared to what sons need to thrive. It gave practical advice (my favorite kind) over a broad range of topics.
You can read my thoughts on this book further here
. The second book I read was geared toward daughters:
What Your Daughter Isn't Telling You
, by Susie Shellenberger and Kathy Gowler. These women work(ed) at Brio Magazine, a magazine for teen girls put out by Focus on the Family. Their book focuses on the correspondence they've received over the years from teen girls. Often the girls are asking advice that should be coming from a mother, but they also express a problem or difficulty with approaching their moms. Sharing these instances along with advice on how to speak to your daughter and help her through the difficult teen years is the focus of their book. I found both of these newly released books helpful merely for their practicality and the fact that they hold nothing back.
The last relational book I read was about spouses.
Capture His Heart
by Lysa TerKeurst has become one of three sparkling gems in this journey. Her book divides the relationship responsibilities a wife has with her husband into categories: spiritual, emotional, sexual, vocational, intellectual, relational, and physical. Each category is discussed thoroughly, with discussion on how words and actions have negative and positive effects on your husband. The ideas TerKeurst gives for each section are easy to implicate, giving you a chance to immediately try and succeed in each category as you make it a habit. The book is not long at all and was so good I bought the companion book,
Capture Her Heart
, for my husband to read. He loved it as well. We recommend this set definitely.
It has been an information overload, but I think I'm ready for it at this point in time. Although I'm not always successful, I am aware and that's a big step for me. Any great life changers you've read lately?