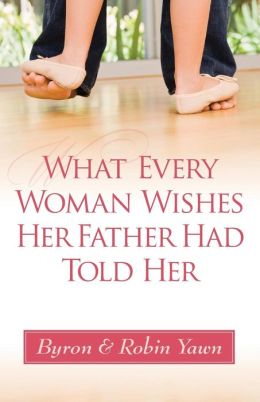 Image Source: barnesandnoble.com
What Every Woman Wishes Her Father Had Told Her, Byron & Robin Yawn
Publisher: Harvest House Publishers
Category: Christian
Source: received from publisher via NetGalley for a fair and honest review.
Byron Yawn is the pastor of Community Bible Church in Nashville, TN. He and his wife Robin have a daughter, to whom this book is dedicated. What Every Woman Wishes Her Father Had Told Her seems to begin as advice to fathers about raising daughters (although the author makes it clear he is writing for women, I think based on the title, fathers might pick it up too). Every child's life is filled with the potential and opportunity to be molded. We as parents are responsible for raising our kids in the way they should go. Ultimately, kids will make their own decisions, but that does not lessen the parents' responsibility to set the path.
This book speaks to many relevant topics for raising daughters. Yawn describes what a good man looks like and setting those expectations for your daughter. As expected, there is a chapter on sex and purity. (The discussion centering on how the the world views sex as casual and the church ignores it, both sides as opposed to sex's intended purpose.)
The middle chapters seem to break off into discussion of womanhood and marriage. Some of these are written by Robin Yawn and the chapters are valid and informative...actually they were my favorite chapters because they made several great statements that clarified cliche terms I've heard spoken in Christian circles. However, while reading, I felt like the topic of daughters had been dropped for a moment. Yes, daughters become women and need someone to lead them through to womanhood, but the connection to doing this with and helping daughters wasn't clear. I felt like I was reading a book on marriage alone. Although, if a woman was reading this book in hopes of gleaning wisdom she'd missed, these chapters would benefit her. I read on assuming the book has a dual purpose/audience - fathers and grown women.
The book definitely has a chapter about appearance/beauty - the world's unfair double standard between male and females, as well as the importance placed n "normalcy." Then comes a chapter on women's struggle to change men and the fact that it cannot be done. Last, but not least, is a chapter that puts straight a verse we often hear misused/misinterpreted. "I can do all things through Christ who strengthens me" is from Philippians
4:13
and we often take it to mean we can do anything we set our minds to or that we pray about, etc. This isn't the case and is not what the scripture means, which this chapter does a good job of explaining.
Overall, the book took some turns that didn't always seem to mesh together with what I expected from the title. I would say it is an okay read, but isn't the first book I'd pick up for advice on raising daughters.