Today I have a guest post from Wendy at
Wensend
. She is located in the Netherlands and reads in a couple of languages, and I only read English, so I thought it would be really cool to hear her take on what it is like to read something in a secondary language. Here's Wendy.
Hi everyone! My name is Wendy and I blog at
Wensend
. Jennine has guest posted on my blog about a month ago on
teaching books
. Today she has given me the opportunity to guest post on her blog and I'd like to use this chance to tell you something about reading. Of course you all know a lot about reading from personal experience already, otherwise you wouldn't be reading Jennine's blog. But I suspect most of the American readers only read books in English, am I right? As opposed to that I read books in three languages (namely English, Dutch (my native language) and German) and I'd love to tell you something about that.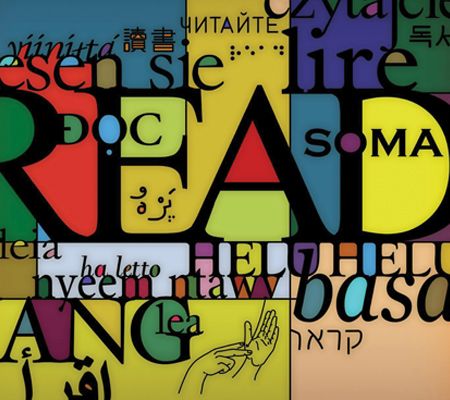 I read a lot of books in English. While most of you would ask me "why don't you just read works translated into Dutch?", I have to say I'm sort of against reading translated work. While I admit you don't have another choice if you want to read the work and don't know the original language (which is why I sometimes do read translations), I always strongly advice people to read novels in the language they were written in.
Impact of language
While plot and characters are important aspects of a novel I think language is even more important. You can't be a good writer without knowing how to play with language. This is why I prefer writing fiction in Dutch instead of English: I can play with words and sentences more easily in my native language. With this idea in mind there are two options for reading. While reading in your native language is easier than in your second or third language, I think it's worth trying to read novels in the language they are written in, because that's the way the author has meant the work to be. By doing this you're reading the 'pure' writings of the author and you'll be able to do your own interpreting without the 'barrier' of a translator.
Impact of translation
I think translating is a craft. Being able to translate works in a meaningful way is a job, but it's also a talent: not everyone can do it. That being said I think reading translations next to the original work is interesting, because you can see how the translator manipulated the text from one language into another. Translating is not just saying the same thing in another language, because language isn't something that stands by itself: language is a coherent set of utterances that influence each other and the world around them and that have different connotations in different languages. Therefore literally translating something isn't possible. You're always adding meaning to the things you're saying or writing. I'm not saying translations aren't useful, because they are (especially if you don't know the original language), but I don't think they can substitute the original work. So if you're able to read the original, please do so. A lot of meaning in a text can be added, distracted and manipulated while being translated. Do you read translated work? You should check out who the translator is and what he or she has translated besides the novel you're reading.
Multilingual reading
Besides reading original works for the sake of the works, you can also benefit from multilingual reading yourself. Do you know you're training your cognitive abilities by using different languages in your daily life? Research has shown us that using more than one language can delay the onset of Alzheimer symptoms by a few years, which is something I think is amazing. So delete that Braintrainer app from your mobile phone or tablet and start reading in another language. ;) If you want to read more about multilingual reading theories, you can go to
this
theoretical article by Jill Fitzgerald. And if you want to know more about translation and why translating isn't saying the same thing in another language, you should read
Is that a fish in your ear? The amazing adventure of translation
by David Bellos. I hope you enjoyed reading this post and don't forget to leave a comment, because I'd love to get involved in discussion!